Futian District Will Become Shenzhen's Near-Zero Carbon Demo Area
[February 8, 2022, Shenzhen] Futian — one of the main central business districts in Shenzhen — will build a near-zero carbon demonstration zone, announced the Futian Government. The announcement was one of the outcomes of the first meeting to formulate an action plan on carbon peak and neutrality, one of the main visions in China's 14th Five-Year Plan. Huawei Digital Power has been working with Futian District on a carbon peak roadmap since 2021 and will be one of the integral partners in building the demonstration zone.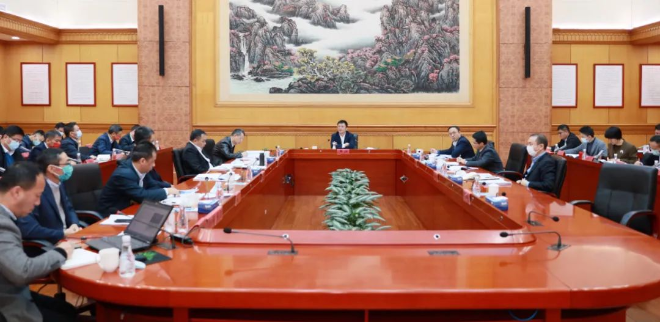 Futian Government meeting on carbon peak and neutrality planning
Achieving carbon peak and neutrality will require an extensive and profound social transformation. Shenzhen is looking to be one of the leaders in China's campaign towards a greener future. With Futian representing one of the city's busiest districts, it is a natural choice for piloting carbon peak and neutrality measures and mechanisms, and will follow the "Five Ones" strategy.
Huawei Digital Power will actively contribute to this initiative. Huawei's integrated smart energy solution is dedicated to reducing urban carbon emissions and energy costs using the latest technologies. Huawei Digital Power has been working with Futian district since last year, and will continue to contribute its extensive expertise in solar PV, energy storage, direct current, and flexibility as well as solutions designed for power generation-grid-load-storage, Co-Mind, electric transportation, and green industries. The "Five Ones" strategy is an important roadmap for Shenzhen to reduce carbon emissions.
One objective: The objective is to build a near-zero carbon demonstration area, become one of the leaders in implementing China's carbon strategies, and set up a best practice for carbon neutrality in a megacity CBD.
One path: Focused on saving energy and increasing the use of renewables, Futian works with Huawei Digital Power and uses digital and network technologies to build a Co-Mind platform. Co-Mind was launched in December 2021 at the 2021 Carbon Peak and Neutrality Forum. The platform visualizes carbon emissions, helping reduce building emissions and regulate enterprise energy consumption.
One policy: Futian will form a "1+8+18" policy system, including an action plan designed specifically for Futian, eight special action plans on building energy saving and green transportation, and 18 exemplary zero-carbon projects.
One mechanism: A "carbon peak and neutrality" leader group is appointed to establish strategic partnerships with enterprises such as Huawei Digital Power, building the "government promotion + multi-party collaboration" mechanism.
One batch of pilot projects: The first batch of pilot projects in Shenzhen's near-zero carbon zone includes Huawei Digital Power Antuoshan Headquarters, Xinzhou Primary School, and Shenzhen Hospital of Guangzhou University of Chinese Medicine.