The Future of Solar Power Plants is Bright with Smart DC Technology
28/4/2021
Renewable energy is set to be the major source of power supply as countries look to end their contribution to the climate crisis by building carbon neutral economies. The European Union, for example, aims to be carbon-neutral by 2050 and to double the use of clean energy with a renewable energy target of 32% by 2030. Solar power is one of the fastest-growing sources of new energy worldwide, with photovoltaic (PV) technology being dominant. New PV power plant installations have increased from 16% to 32% globally over the past ten years. China, US, Germany, Japan, Italy, and India possess the world's biggest solar PV capacity.
With the installation of solar PV power plants growing rapidly for both utility-scale and distributed power generation applications, and showing no signs of slowing down, it is critical that these plants are designed and operated efficiently, reliably, and safely.
Acknowledging Fire Hazards at PV Power Plants
While solar energy is an environmentally safe form of energy generation, it still poses fire risks. PV cells, also known as solar cell, and inverters, which convert the solar energy into usable electricity, are at risk of lightning strikes, resulting in fire.
Other factors increasing the risk of fire at PV power stations include high-current technology of new modules, increased capacity of inverters or combiner boxes, and the more complex and diversified application scenarios of solar PV.
Although fires caused by PV systems are fortunately rare, any fire involving a PV array can have devastating consequences for people, property, and the environment.
Recently, a fire occurred in several central inverters at a PV plant in Ullum, in the San Juan province of Argentina. Thankfully firefighters extinguished the fire and no-one was hurt, but incidents such as this highlight the importance of ensuring PV systems are correctly designed, consist of properly tested components, are competently installed, and regularly maintained. Let's dig a little deeper into the common faults causing fires.
Uncovering Common Faults Increasing Fire Risk in PV systems
Most defects occur in DC plugs, junction boxes, and inverters which top the list of components with the most defects. This isn't surprising, given these are all complex components of a PV system. In many cases, defects are caused by installation errors and poor connections. Electrical safety of the PV system is vital and preventive measures should be taken to reduce the failure rate.
Gaps in International Safety Standards
While there are international standards for PV plant safety which would be considered basic requirements for PV manufacturers and equipment suppliers to comply with, the rapid pace of PV industry development means safety standards may not keep pace.
Huawei's soon to be issued whitepaper focusing on inverter safety for PV array identifies gaps in current standards that should be addressed to avoid potential culprits leading to safety issues.
The largest fire hazard within a PV system comes from an electric arc, which occurs due to loose contacts, broken wiring, aging insulation materials, carbonization, dampness, corrosion of wires, and damage to insulation materials. An enormous amount of heat from an electric arc can destroy the surrounding materials and cause a fire.
Currently, there are relevant standards for DC arc detection and shutdown, such as: UL1699B-2011, UL1699B-2018, IEC 63027, CGC/GF 175-2020; which have certain requirements for cable length, protection threshold, and fault clearing actions.
IEC 62548:2016 sets out design requirements for PV arrays including DC array wiring, electrical protection devices, switching and earthing provisions. The standard can effectively protect the module and cable but there are still gaps in the protection measures for the DC junction box and inverter.
Therefore, in addition to complying with existing standards, future PV power stations should consider deploying active safety. Through smart equipment and monitoring, risks can be managed in an early stage without becoming major incidents.
Active safety with Smart DC Disconnect solution
Active safety includes the active detection and identification of safety risks (such as the protection of grounding, insulation, and leakage current), and protection mechanism when faults happen. Some PV systems are more vulnerable to safety risks, let's take the centralized system as an example below:
When a short circuit happens at the combiner box or DC Power distribution cabinet, the electrical system can only protect the AC side (part 4 on the diagram). A fuse is usually used for protecting the DC side (part A, B, C) but it is not reliable. When a fault occurs, neither the fuse nor the DC circuit breaker would be triggered as each string's current is small, resulting in a continuous injection of energy, which is a potential fire risk.
During a DC bus short circuit fault, if the inverter has uncontrollable switches, it won't disconnect the DC input, and the accumulation of energy at the fault point may cause a fire.
Smart DC Disconnect can strengthen short circuit protection for the DC bus in a string inverter system. The controllable DC disconnect switch has an automatic tripping device and digital string-level monitoring. It ensures detection accuracy, response consistency, and timely response.
The unique DC disconnect switch solution is combined with the inverter's cascade-level smart detection and control system. It meets the IEC 60947-2 certification standard for circuit breakers, and the requirements of IEC 62548 7.3.4 for over-current protection, providing multi-dimensional protection of DC electrical safety at power stations.
Without needing fuses for protection, the solution can save daily inspections and maintenance, thus reducing power plant operation and maintenance costs.
With the increasing power and electric current of PV modules at power stations in the future, the risk of fire due to faults is also rising. Smart DC Disconnect solution can help power plants future-proof their PV system, and the smart technology can make solar power plants highly efficient, safe, and reliable. These technological developments are crucial to realizing the promise of a sustainable future using clean and renewable sources of energy.
Go back >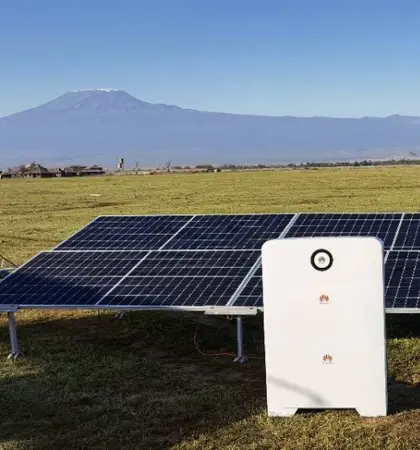 7/6/2022
Solar-Powered 5G Livestream from Amboseli Drives Interest in Kenyan Tourism Boosting Economic Recovery Efforts
On World Environment Day, Sunday June 5, Safaricom, Huawei, and China Media Group (CMG) partnered with the Ministry of Tourism to organize a solar-powered livestream from Amboseli National Park that was broadcast globally online and on TV. The livestream used a 5G network whose extremely fast speeds enabled a high quality viewing experience and is just one way that technology is playing a key role in supporting the growth of tourism. Reaching up to 100 million impressions, the event informed viewers of the importance of the natural environment and wildlife, as well as increasing interest in Kenyan tourism in support of the Magical Kenya Campaign. This is particularly important in light of the economic recovery post COVID-19 when the tourism industry was hit particularly badly.
Read more >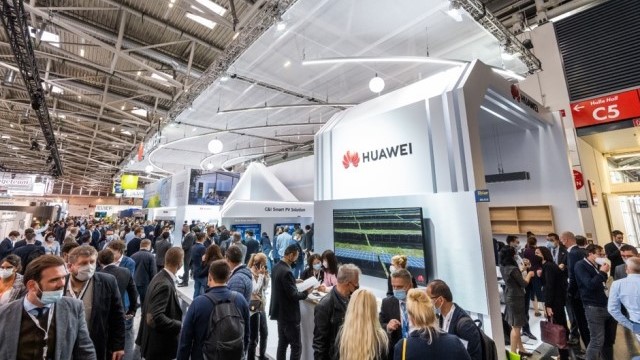 8/10/2021
Huawei Presents FusionSolar All-Scenario Smart PV & Storage Solution at Intersolar 2021
[Munich, 6 October 2021] At Intersolar 2021 Europe, Huawei presents the new-generation FusionSolar All-scenario Smart PV & Storage Solution, It covers "4+1" scenarios: Large-scale Utility Scenario, Green Residential Power 2.0, Green C&I Power 1.0, and Off-grid (fuel removal) Power Supply Solutions and Energy Cloud, aiming to accelerate the shift to low-carbon generation and bridge the energy divide.
Read more >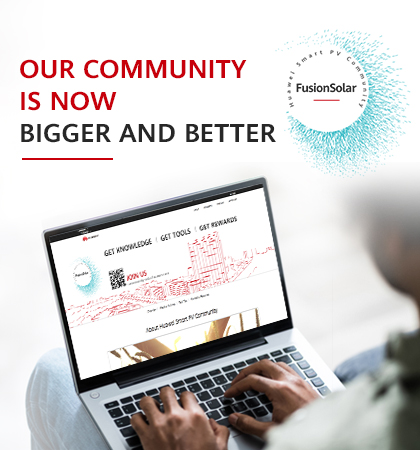 22/9/2021
Huawei Smart PV Community is Back Online!
After a long summer break, the highly anticipated Huawei Smart PV Community is now back, and it is bigger and better! For those who haven't joined us, Huawei Smart PV Community is a free sharing platform targeting our users and installers.
Read more >