Are home solar batteries worth it? Make your Rooftop the Power Generator
23/6/2021
Renewables, the key for green transition and the fight for climate change
In 2020, the global average temperature hit a record high again, increasing 0.1°C compared to 2019. It is one of the three warmest years on record. Climate change has never been more evident with frequent extreme weather events, including heavy rains, cyclones, thunderstorms, locust plagues, and wildfires threatening our environment.
We all have a responsibility to act to stop the climate from getting worse. Governments, companies, and individuals need to reduce greenhouse gas emissions and environmental damage to protect the planet.
Replacing fossil fuels in transport, electricity, and industrial processes with wind, solar PV, and other renewable energy can cut greenhouse gas emissions such as carbon dioxide. In some countries, renewables have already produced more electricity than fossil fuels.
As homeowners, installing PV panels, inverters and batteries can help to tackle climate change and save on electricity bills. Each kilowatt-hour (kWh) of electricity generated by a solar PV system represents a reduction of 0.475kg CO2, and the positive effect of every 39 kilowatt-hour (kWh) of electricity generated by solar energy is equivalent to that of planting a tree.
Why do we need to install battery for our solar PV system?
The most common renewable energy source for households is solar. During the night when solar PV modules are not generating power, that's where the batteries could come in and save the day.
- Firstly, a solar system equipped with batteries can provide 24-hour renewable energy to meet the energy needs of households and reduce the electricity bill to virtually zero.
- Secondly, installing solar system equipped with batteries also protects homeowners against electricity price increases imposed by energy firms, allowing them to use electricity worry-free.
- Finally, a battery-equipped solar system can provide an emergency power supply for electrical appliances when there is an outage from the grid, avoiding losses caused by power outages.
Make the best of your rooftop with an example
So, what are the key considerations for homeowners who want to reap the benefits of a solar energy system?
Let's take solar installation for an average German family as an example. Each kW photovoltaic panel can generate an average of 1050 kWh per year based on the sunlight conditions in Germany. Photovoltaic panels of 8kWp or higher can be installed on a 72-square-meter rooftop, which generate over 8400 kWh in a year, meeting households' electricity demand with average electricity consumption of 700 kWh a month.
At the same time, the family needs to install batteries to store the excess solar energy during the day and use it at night. If the household's electricity consumption at night accounts for 60% of the entire day's electricity consumption, then a 15 kWh battery would be suitable.
Therefore, the system needs to include 8kWp photovoltaic panels, 15 kWh batteries, and other accessories such as communications and electricity meters. We also recommend installing an optimizer for each panel to increase the safety and power generation of the entire system.
Families with such solar and battery system in Germany can save 85% of electricity bills and reduce carbon dioxide emissions by 3.99 tons/year, equivalent to planting 215 trees.
Make your solar PV and battery system smarter and safer
Let's take a closer look at designing a solar and battery system to be more profitable, safer, and provide a better user experience.
1. Install the optimizer: The performance of PV panels depends on a few factors, whether the panels are shaded, the azimuth angle, and tilt angle. Installing optimizers on PV panels can generate up to 30% more energy per day. In addition to increasing power generation, the optimizer also supports the rapid shutdown of the voltage photovoltaic panel to 0V to ensure safer contact.
2. Choose a smart string battery with the following characteristics:
a) A battery with an energy optimizer ensures that each battery pack can be fully charged and discharged: The State of Health (SOH) of a battery is affected by temperature differences, operational degradation, and factory deviation, etc. The underperformance of a typical battery cell would lower the entire system's availability. With an energy optimizer, the underperformance of a battery cell would not affect the battery system and ensure that each battery can be fully charged and discharged.
Huawei adopts the smart string architecture with energy optimizer and could extend the usable energy by up to 10% with our LUNA 2000 battery during the whole life cycle
b) All-round monitoring of battery cells: A safe battery system should have an all-round monitoring system, with independent sensor for each cell to precisely monitor temperature and an AI-powered advanced internal short circuit detection algorithm to precisely analyze the voltage curve of each cell: any drop of cell voltage would trigger the algorithm and result in immediate isolation of the faulty battery module to prevent a short circuit. Also, equipping each battery pack with Smart Fire Protection, a self-extinguishing bag which can be triggered by exceptionally high temperature can secure the safety of the whole system.
3. Select one-fits-all PV system components vendor: Choose a vendor that can provide key photovoltaic system equipment, especially inverters, batteries, and optimizers. Having such one-fits-all vendor can realize one-window design, transportation, installation, monitoring APP, and after-sales service which can ensure unified and efficient service and a better user experience.
Home solar batteries offer another possibility for families by providing more stable and sustainable electricity day and night. They not only help us to save on electricity bills, but also empower solar to be the main energy source for zero-carbon society. Follow the above tips to choose the most suitable batteries for your rooftop, and contribute to a greener planet!
Go back >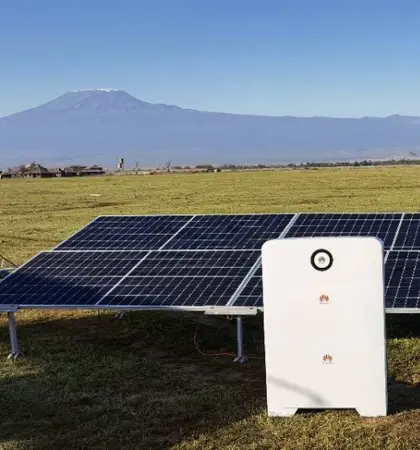 7/6/2022
Solar-Powered 5G Livestream from Amboseli Drives Interest in Kenyan Tourism Boosting Economic Recovery Efforts
On World Environment Day, Sunday June 5, Safaricom, Huawei, and China Media Group (CMG) partnered with the Ministry of Tourism to organize a solar-powered livestream from Amboseli National Park that was broadcast globally online and on TV. The livestream used a 5G network whose extremely fast speeds enabled a high quality viewing experience and is just one way that technology is playing a key role in supporting the growth of tourism. Reaching up to 100 million impressions, the event informed viewers of the importance of the natural environment and wildlife, as well as increasing interest in Kenyan tourism in support of the Magical Kenya Campaign. This is particularly important in light of the economic recovery post COVID-19 when the tourism industry was hit particularly badly.
Read more >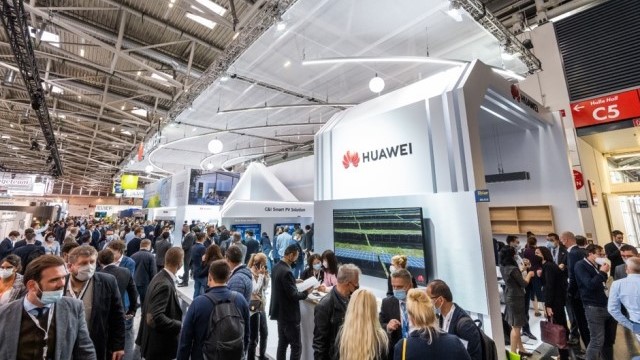 8/10/2021
Huawei Presents FusionSolar All-Scenario Smart PV & Storage Solution at Intersolar 2021
[Munich, 6 October 2021] At Intersolar 2021 Europe, Huawei presents the new-generation FusionSolar All-scenario Smart PV & Storage Solution, It covers "4+1" scenarios: Large-scale Utility Scenario, Green Residential Power 2.0, Green C&I Power 1.0, and Off-grid (fuel removal) Power Supply Solutions and Energy Cloud, aiming to accelerate the shift to low-carbon generation and bridge the energy divide.
Read more >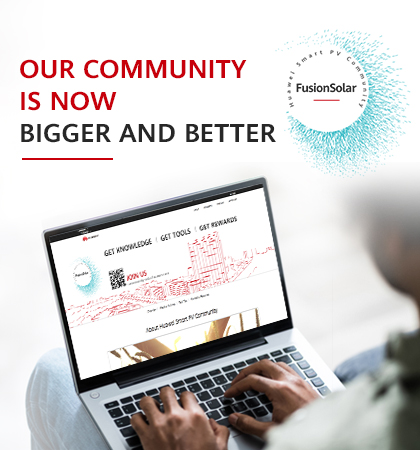 22/9/2021
Huawei Smart PV Community is Back Online!
After a long summer break, the highly anticipated Huawei Smart PV Community is now back, and it is bigger and better! For those who haven't joined us, Huawei Smart PV Community is a free sharing platform targeting our users and installers.
Read more >