Calling All Solar Power System Installers and PV Industry Professionals to Join Huawei Smart PV Community
25/1/2021
There is only half of the world has access to digital technology and 11% of the world uses renewables with the rest still suffering from the challenges brought by legacy energy sources. Advances in digital technology are creating new possibilities for environmental sustainability, that we launched our Huawei Smart PV Community last year aiming to make smart PV accessible to all.
Huawei Smart PV Community focuses on cultivating talents to be deployed across the industry to accelerate worldwide smart PV applications for a greener and lower-carbon society. In our community, we acclaimed experts covering 20+ countries, offers a full range of online and offline PV courses, and special topics available anywhere and anytime, it also provides the latest marketing tools tailored for installers. In addition, by learning courses, you can also earn FusionSolar points to redeem special gifts.
Let's have a look at what our community is all about.
Training Programs
Taking part in our training programs would be a good chance to expand your knowledge and experience of the solar technology field and become familiar with our products and solutions.
We provide several Solar Training Programs which are available as tailored in-house courses or open seminars for different regions in their local languages. Our four modules training for instance provides a comprehensive overview of solar technology. For example, we provide live webinars such as product installation and commissioning training playback sessions, product requirements training, new product launch training, and more technology training courses.
Webinar Archives
Missed our previous webinars? Or want to watch back and refresh some of the key information? Our Webinar Archives section in Smart PV Community would help you!
Some of the popular webinars include, 10 Trends in Smart PV @2025, Huawei 2020 Residential & C&I New Product Launch, Design of Solar PV Farms with Huawei Inverters, Bifacial for Huawei PV Utility Scale Solution, Huawei FusionSolar Products Service Overview, Huawei Smart I-V Curve Diagnosis Tool, 2020 Huawei APAC Smart PV for Future Virtual Summit and lastly, Huawei FusionSolar Day Ireland.
Tech Tips
Are you a solar power system installer? Do you use the FusionSolar APP? We provide different video guides on residential, commercial and utility-scale products and solutions for all installers and customers, that you could find tech tips of our App, battery, inverter, meter, monitoring, optimizer and more.
Marketing Resources
For a solar energy marketer or project manager, want to get more information on our marketing activities and resources? We also provide diverse marketing resources including but not limited to global case references, flyers, roll-ups, product images and videos, banners, ads, animations and more materials after you logging in the community.
Moreover, we provide more than 10 languages such as French, Italian, Japanese, Polish, Spanish, Portuguese, Dutch, German and more, that you would explore the latest technology innovations of Huawei FusionSolar Smart PV Solutions in your own language.
Discover and join now, being the knowledgeable and experienced solar experts with getting knowledge, getting tools and getting rewards!
Go back >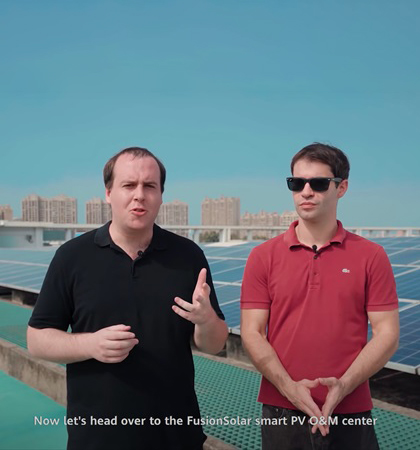 29/3/2021
Explore Huawei's Most Innovative Rooftop PV Plant at Our Southern Factory Campus
Huawei, we walk the talk by building Smart PV plants on our campuses and using more renewables to continuously optimize the energy mix we need for our operations. One of the most innovative plants is located at our China Southern Factory rooftop with a total capacity of 17.5 MW which demonstrates many latest digital technologies in the PV industry
Read more >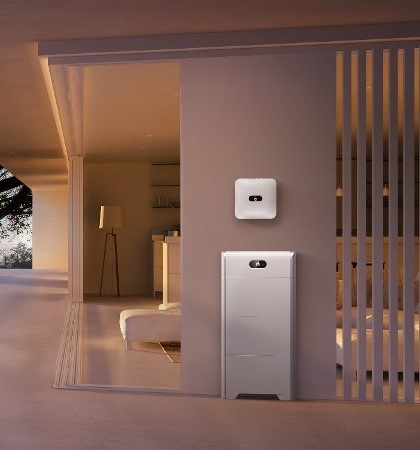 19/3/2021
Home battery enables off-grid and fully sustainable living
Energy storage will play an important role in the energy transition. Many companies are busy developing systems. Bouke van der Weerdt, solutions manager at Huawei, talks about the LUNA2000 smart string Energy Storage System (ESS).
Read more >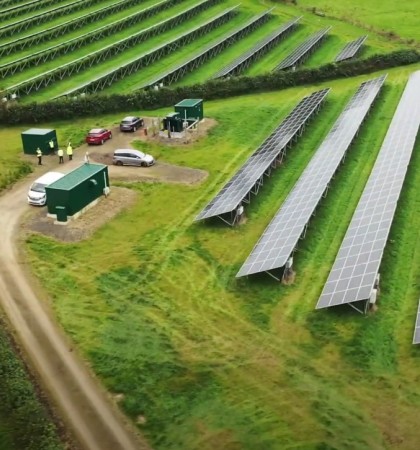 21/12/2020
Ireland, on the new path to harness solar energy with leading technologies for a sustainable digital future
Wind and hydro power were largest contributors to renewable electricity so far in Ireland. Solar power is a relatively new energy source for at the moment, however it may come to play the most important part.
Read more >