Ireland, on the new path to harness solar energy with leading technologies for a sustainable digital future
21/12/2020
Wind and hydro power were largest contributors to renewable electricity so far in Ireland. Solar power is a relatively new energy source for at the moment, however it may come to play the most important part.
Huawei has been a trusted partner in Ireland for over 16 years and it prioritized sustainability in their development strategy providing energy efficient green ICT solutions that reduce carbon emissions and drive economic growth. The digital power business and the sustainable future is a big focus for Huawei in Ireland and we fully support the sustainable and environmental goals set by the country.
Over the years, our team in Ireland has worked with various stake holders on multiple PV projects, provides our solutions for 6 PV plants over 112 MW. And we take the opportunity to speak to some of our clients and follow their sustainable journey.
Lightsource bp have been operating in Northern Ireland for about 6 years and have a substantial portfolio in Northern Ireland. In 2016 they built the first solar farm on the island. Currently they have 10 solar farms across Northern Ireland, which is around 84.5 MW. We have the opportunity to visit some of the Lightsource bp's largest sites in Northern Ireland. Aidan Collins from Lightsource bp introduced to us this particular PV plant which is 27 MV and it has a challenging topography but they were able to drain the site quite well and ultimately is a project that they are very proud of. For Lightsource bp the main objective is to keep the sites running as efficiently as possible and prevent any downtime. Monthly checks and preventative maintenance work is done to ensure everything is working perfectly.
Horan Power Engineering looks after around 70 MW of PV solar sites in Ireland. We have an opportunity to visit one of the largest sites at Bann Road which is about 45 MW. Brian Hunter from Horan Engineering mentioned in the interview, the Huawei string solution made their job much easier. Huawei's inverters have extremely low failure rate over the past 2 years. When there is a failure, each of them have been replaced under warranty within a week. In terms of O&M, as the site can be boggy and wet, sometimes they have to find a small cut in such a big plant, which is a huge challenge. With Huawei inverters, the problem could be narrowed down to the string level, so they know exactly where to look and what they are looking for.
PVGen previously had two systems for NUIG, recently fitted an approximate 250 kW peak over 3 systems, bringing their total solar PV output to almost 300 kW peak .
"We were delighted to work with Huawei on the NUIG project and the support from their team brought on the initial design as well as technical clarification about string inverters proved a great asset to us. We look forward to a long and successful future using their (Huawei's) products."
Joe Garvin, PV Generaion
BWG foods recently took the decision to install solar panels at their national distribution center. They installed a 250 kW system combined with Huawei inverters. Taken together their actions, they have yielded a savings of 45 000 tons of carbon in the transport area over the last number of years. This system will save over 70 tons of carbon dioxide being emitted and fits in with strategies they have deployed in the last year.
"We decided to use the Huawei inverters on this project, because of the reliability, safety features, efficiency and backup technical support and because they have a ground base here in Ireland."
John Carty, Dir Enerpoweer
OM Energlaze has tried and tested many inverters and since January they have gone with Huawei.
"Number of reasons why I've chosen (Huawei) to fit it here. Firstly ease of install. It's very lightweight product commission, is very straightforward, which is great, makes our life easier, highly efficient great brand awareness as well as our great technical support and backup with Huawei,"
Gearoid Whelan, OM Energlaze
Go back >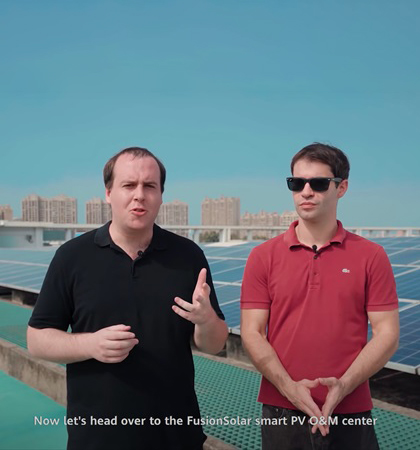 29/3/2021
Explore Huawei's Most Innovative Rooftop PV Plant at Our Southern Factory Campus
Huawei, we walk the talk by building Smart PV plants on our campuses and using more renewables to continuously optimize the energy mix we need for our operations. One of the most innovative plants is located at our China Southern Factory rooftop with a total capacity of 17.5 MW which demonstrates many latest digital technologies in the PV industry
Read more >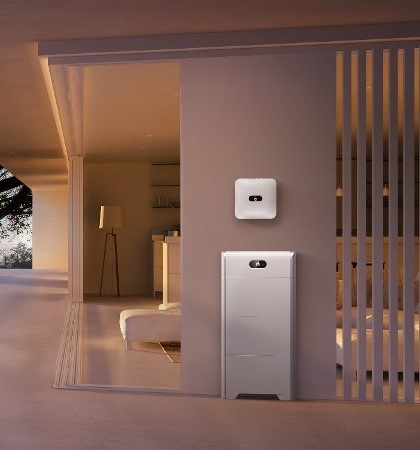 19/3/2021
Home battery enables off-grid and fully sustainable living
Energy storage will play an important role in the energy transition. Many companies are busy developing systems. Bouke van der Weerdt, solutions manager at Huawei, talks about the LUNA2000 smart string Energy Storage System (ESS).
Read more >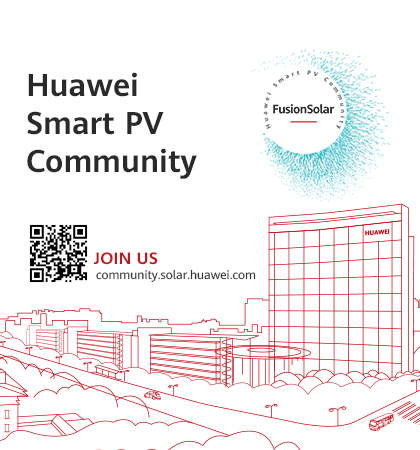 25/1/2021
Calling All Solar Power System Installers and PV Industry Professionals to Join Huawei Smart PV Community
Huawei Smart PV Community focuses on cultivating talents to be deployed across the industry to accelerate worldwide smart PV applications for a greener and lower-carbon society. In our community, we acclaimed experts covering 20+ countries, offers a full range of online and offline PV courses, and special topics available anywhere and anytime, it also provides the latest marketing tools tailored for installers. In addition, by learning courses, you can also earn FusionSolar points to redeem special gifts.
Read more >