ACWA Power and Huawei to Spur Innovation in Local Renewable Energy and Storage Development
- MOU agreement to enable joint development of innovative technologies and solutions to significantly enhance renewable energy efficiency and optimize the implementation costs
- Partnership to also foster technology transfer and support socio-economic growth in Saudi Arabia by investing in renewable energy initiatives.
Munich, Germany- June 15, 2023 - ACWA Power, a developer, investor and operator of power generation, water desalination, and green hydrogen plants, has announced a significant milestone in its pursuit of renewable energy excellence. The company has signed a memorandum of understanding (MoU) with Huawei Digital Power, a leading global provider of digital power products and solutions, to establish a joint-innovation program, to drive the growth of local industries and expedite decarbonization targets in of the Kingdom of Saudi Arabia.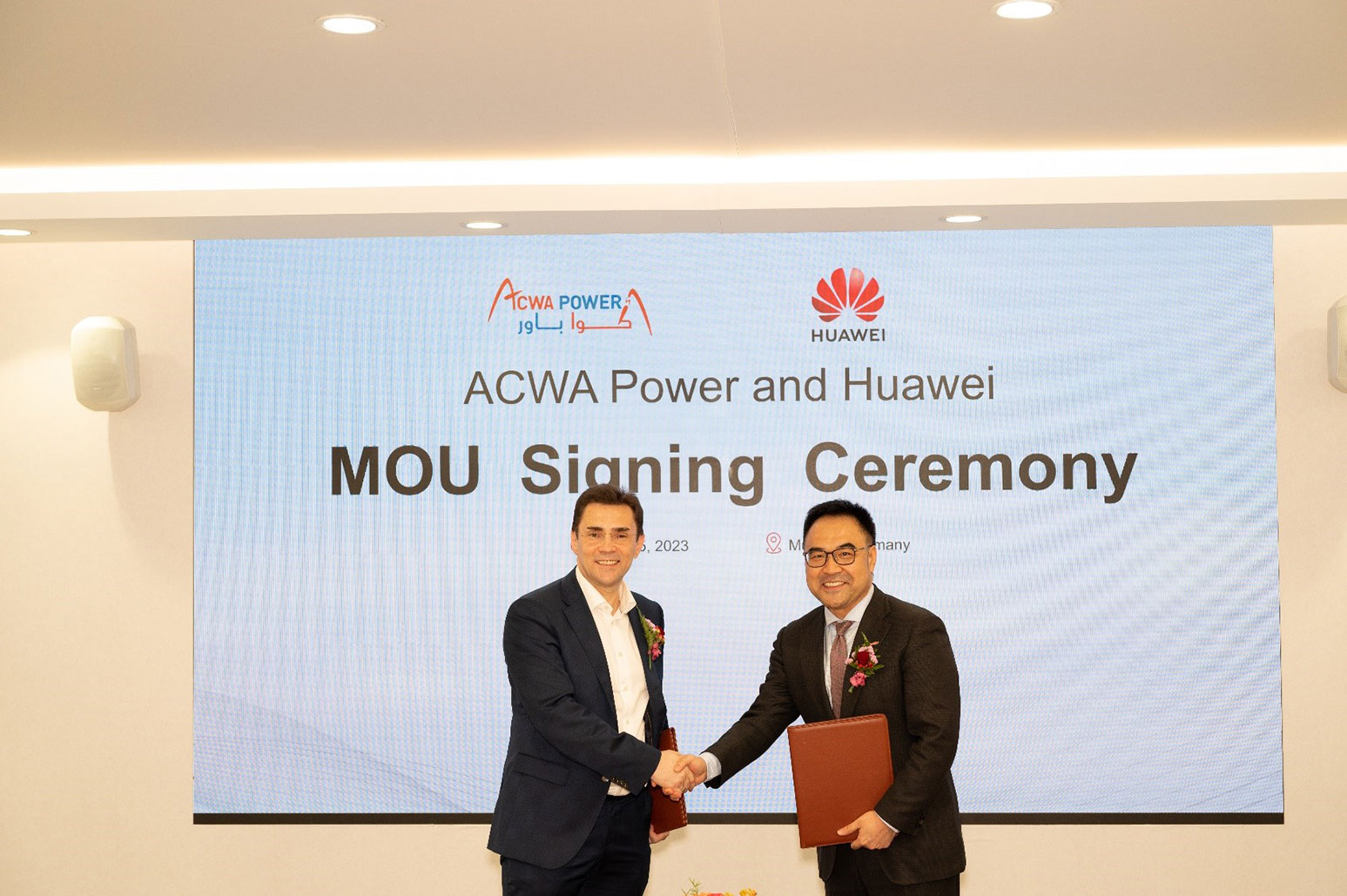 The joint initiative between ACWA Power and Huawei Digital Power will focus on developing cutting-edge technology that optimize the efficiency and reduce costs associated with renewable energy projects. By leveraging local expertise and resources, the partnership aims to drive advancements in renewable energy production and energy storage projects, enabling a sustainable and economically prosperous future.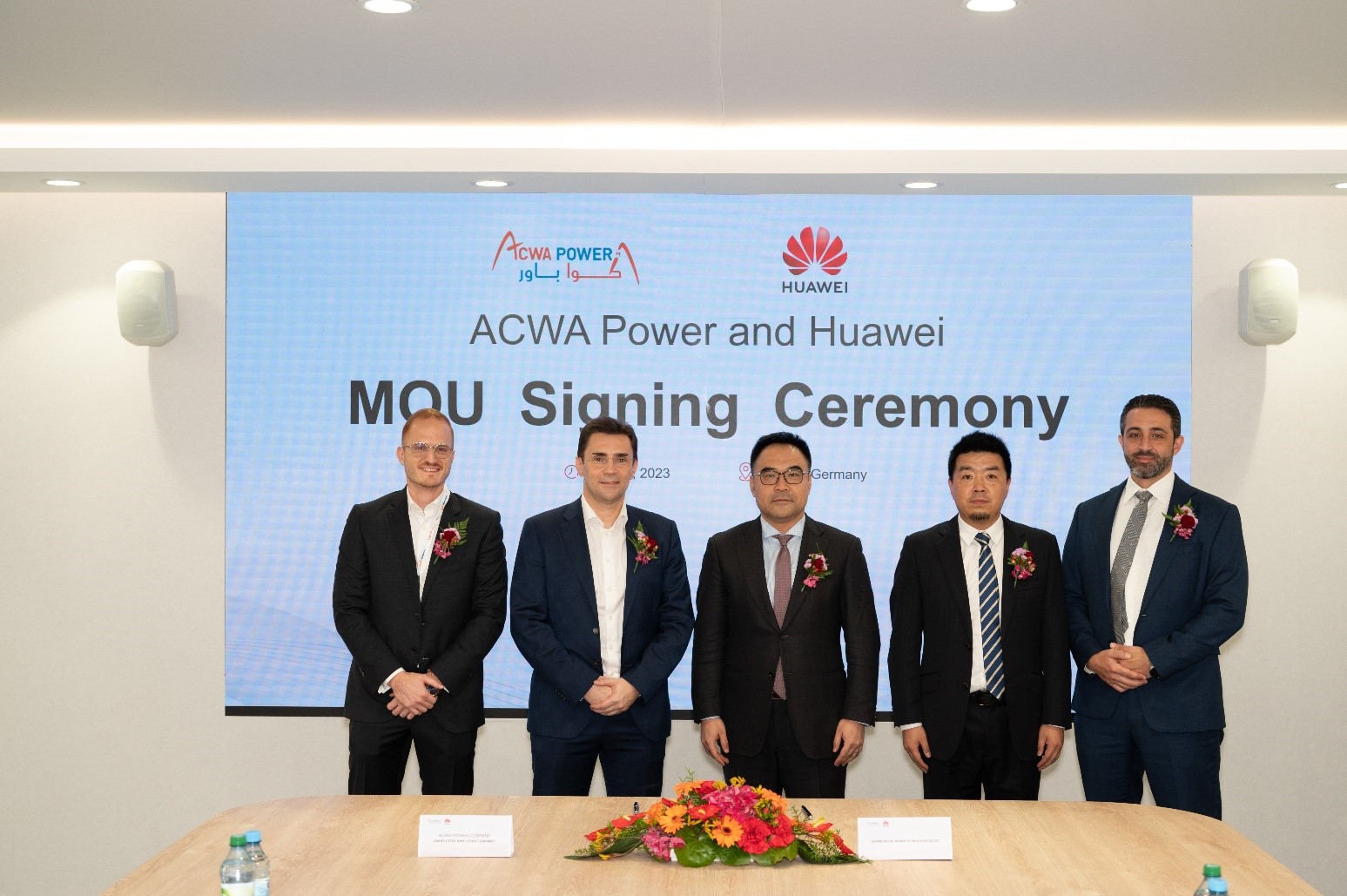 Thomas Altmann, EVP of Innovation & New Technology at ACWA Power, expressed his enthusiasm about the partnership, stating, "Collaboration is a key pillar of our approach to renewable energy development in Saudi Arabia, aligning with the objectives outlined in Vision 2030. This partnership with Huawei not only supports our ambitious renewable energy goals but also contributes to the development of a thriving research and innovation ecosystem locally. By joining forces with one of the world's top digital power companies, we ensure that our projects are optimized to meet the Kingdom's renewable energy needs, providing affordable and sustainable power solutions for our communities."
The research and development program will yield groundbreaking solutions to enhance renewable energy projects in Saudi Arabia. The collaboration will focus on the design of photovoltaic (PV) strings, maximizing solar module capacity while reducing the number of strings required for each project. This innovation will significantly lower the balance of system (BOS) costs, reducing installation and maintenance costs.
Additionally, the partnership will explore the implementation of microgrid simulations to optimize performance based on specific energy needs. The development of advanced controllers will improve energy management, load balancing, and grid stability, enabling microgrids to seamlessly adapt to changing conditions. These advancements will increase renewable energy utilization, promoting a reduced reliance on fossil fuels. ACWA Power will be able to implement these controllers in any project that integrates and hybridizes power generation, energy storage, and loads.
Yao Jiang, President of Huawei ME&CA Digital Power Business Department, expressed his pride in contributing to ACWA Power's low carbon ambitions, stating, "As renewable energy deployment scales up significantly in the Kingdom and the wider Gulf region, ACWA Power is taking a step further by enhancing project outputs and addressing cost considerations. We are honored to work with ACWA Power and contribute to the low-carbon vision and strategy of the Kingdom, leveraging our expertise in providing combined digital technology and power generation solutions."
Huawei Digital Power is currently collaborating with ACWA Power and Chinese engineering firm SEPCOIII on the development of a 1,300MWh battery energy storage system (BESS) for The Red Sea Project's energy storage facility. This project exemplifies the ongoing collaboration between ACWA Power and Chinese entities, which have played a pivotal role in supporting ACWA Power's growth over the years.
Since 2009, Chinese firms have been integral partners in ACWA Power's business development, strategic procurement, investments, financing, insurance, and project execution. To date, Chinese entities have contributed over USD$10 billion in equity and financing, as well as over USD$26 billion in EPC value and USD$5.3 billion worth of solar equipment across 47 landmark renewable and seawater desalination projects worldwide.
The partnership between ACWA Power and Huawei Digital Power represents a significant milestone in the advancement of renewable energy in Saudi Arabia. Through joint innovation and collaboration, the two entities are set to make substantial contributions to local economic growth, technology transfer, and the optimization of renewable energy projects, further solidifying their commitment to a sustainable future.