Huawei's Smart String-level Disconnection (SSLD) Tech for PV Plant Safety Certified by DEKRA and Intertek
[February 21, Shenzhen, China] Huawei's Smart String-level Disconnection (SSLD) tech for PV plant safety gained certificate of low-voltage circuit breaker (IEC60947-2) from DEKRA and Intertek respectively, which is the 1st vendor to get the certificates by using the innovative smart string shutdown tech. The SSLD tech can accurately identify faults from DC side of PV system such as reverse polarity connection, backflow current, short circuit, and implement automatic string-level shutdown on millisecond basis, which can effectively improve the active safety capability of the PV plant.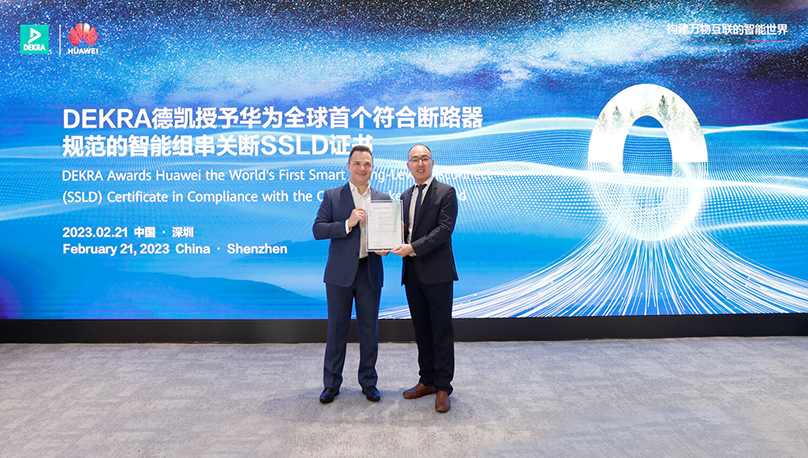 With the penetration rate of solar power increasing, the safety issues of PV system can't be ignored, among which over 70% are from DC side according to the statistics of Huawei. Due to the characteristics of PV Huawei integrate digital technologies with power electronics, and launched the world's first PV inverter that supports smart string disconnection, which can accurately detect the current signals of each string. When a fault is detected, the software transmit the switch-off signal to the DC switch, immediately trigger disconnection and alarm, which can reduce the fire risk of PV plant significantly.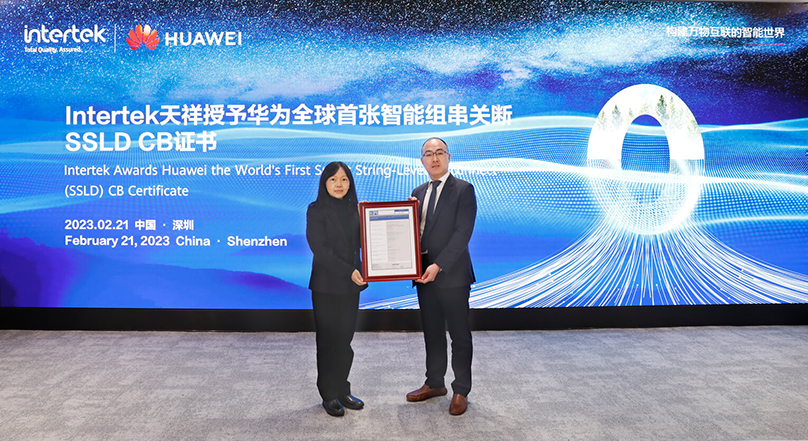 Dr. Kilian Avilés, SVP of DEKRA Asia Pacific and Managing Director of Mainland China and Hong Kong, stated: "I am very excited to see Huawei's cutting-edge solution that integrates digital and smart technology with electronics to guard safety and maximize energy efficiency. We look forward to working with Huawei to create a green and sustainable future."
Li Qiong, General Manager of Intertek Electronic & Electrical in South China, said, "Intertek and Huawei Digital Power have maintained close cooperation in the field of product compliance for a long time and have achieved fruitful results. As a trusted quality partner in the energy field, Intertek advocates building and highlighting the quality advantages in new products and new technologies with professional and innovative comprehensive services. In the future, we hope to deepen our cooperation with Huawei Digital Power and explore a new level of green and intelligent product security. Together, we will contribute to the healthy and sustainable development of the energy industry."
Steve Zheng, president of Utility Smart PV Business of Huawei said, "It is imperative to enhance the safety protection level of new energy plant by digital technology. The two organizations certified the innovation and reliability of Huawei's Smart String-level Disconnection technology, which ensures safe operation of the PV plant based on the design concept of all-scenario, high-precision and fast-response. The wide application of this technology will escort PV to become the main energy source. In the future, Huawei will continue to deepen the innovation and integration of digital and energy technologies, and work with global partners to improve energy security assurance capabilities and accelerate global energy transformation."