Huawei and Pinggao Group extend their global partnership
[Munich, May 11, 2022] Huawei Digital Power and Pinggao Group Co. Ltd have signed a Memorandum of Understanding (MoU), to further strengthen their cooperation, with regards to the supply of innovative and reliable Huawei string inverters, for PV plants in Balkan regions included but not limited to Greece, Bulgaria and North Macedonia.
PINGGAO is one of the leading manufacturers of electrical equipment, and EPC companies, holding extensive worldwide project experience. Huawei and PINGGAO, signed the agreement in the framework of the leading international exhibition, Intersolar Europe 2022, in Munich.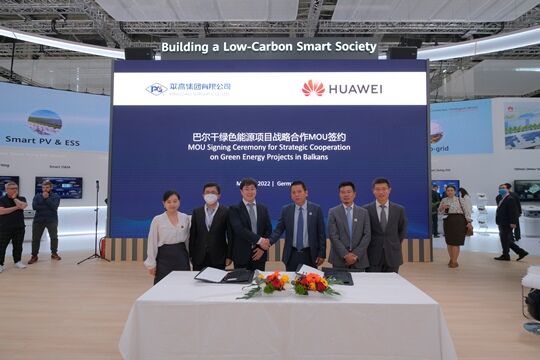 Through this agreement, Huawei is named exclusive supplier of solar inverters to Pinggao Group either directly or through its Official Distributor, while providing comprehensive technical support with regards to project execution in Balkan regions.
As Mr. Kunlun Lyu, Regional Representative for South-East Europe (Balkans) of Pinggao Group noted: "We have decided to extend our successful cooperation with Huawei in the Balkan region, greatly based on the robustness and reliability of Huawei inverters that will ensure the smooth and efficient operation of our power. Huawei's integrated advanced attributes, such Smart IV Curve Diagnosis, as well its comprehensive service offering will facilitate installation and reduce our O&M costs greatly."
As Mr. Huang Hongqi, CEO Huawei Technologies South Balkan Region stated: "We are extremely delighted that Pinggao, one of the most successful solar development and EPC companies globally, trusts us as a key supplier for their PV plant portfolios in the Balkan region as well. We are committed to meeting their quality and performance standards, offering the necessary after sales support to guarantee the long-term security of their projects."
Huawei has more than 30 years of experience in digital and power electronics technologies. As a technology provider, Huawei has been taking action to enable energy conservation and emission reduction in various industries through innovative technologies as well as green products and solutions.
About Pinggao Group
Pinggao Group was founded in 1970. After 50 years of development, it has become a well-known power equipment manufacturer and system integrator in the world. The business scope covers the research and development, design, manufacture, sales, testing, operation and maintenance of transmission and distribution equipment and other services and related equipment, general contracting of power engineering, whole-process engineering consulting, comprehensive energy services, power storage, electric boilers and thermal energy storage , Offshore wind power grid-connected equipment, smart grid equipment, charging and swapping facilities, etc. The total assets of Pinggao Group exceed 4 billion euros, and there are nearly 10,000 employees. Overseas, there are Poland branch, Indian subsidiary, Laos office, Nepal office, Pakistan office, and other overseas offices, and plans to add Spanish 、Greek and Cambodian offices abroad.
Pinggao Group's EU performance
In terms of overseas markets, so far Pinggao Group's high- voltage electrical products have been exported to more than 70 countries around the world, including Italy, Spain, Poland, Brazil, Chile, Colombia and India, etc.The main achievements in the EU are:
1. In terms of HV grid infrastructure, since 2013, Pinggao has undertaken 6 power transmission & transformation projects in Poland, with voltage levels ranging from 110kV to 400kV, of which the 400kV Kozienice project completed in 2018 is the first Grid infrastructure projects completed by Chinese companies in the EU. In addition, PINGGAO won the bid and undertook the construction of AD MEPSO (North Macedonian TSO) -Rehabilitation of 110 kV OHTL SS Stip - SS Probistip project with financing from the European Bank for Reconstruction and Development, which was completed on November 12, 2020;
In terms of equipment manufacturing and supply, since 2018, it has signed contracts for switch equipment supply with ENEL Italy, totaling about 40 million euros. The products cover circuit breakers, switchgears, HGIS, etc.
3. In terms of renewable energy projects, PINGGAO was awarded a rooftop photovoltaic project with a cumulative capacity of 10MW in North Macedonia; In May 2021, it was awarded a 2MW photovoltaic project in Komnina, Region of Lamia, which is the first PV project in Greece.