2023.04.26 |

Middle East and Africa
Huawei calls on solar industry to work together, Building PV Industry to be a High Quality Benchmark
[Johannesburg, South Africa, 26 April, 2023] Huawei attended Solar Show Africa 2023 in Johannesburg. Mr. Xia Hesheng, President of Huawei Sub-Saharan Africa Digital Power Business, delivered a keynote speech and shared Huawei's approach and practices in PV industry with high quality benchmark in three aspects: "quality, safety, and power grid adaptation".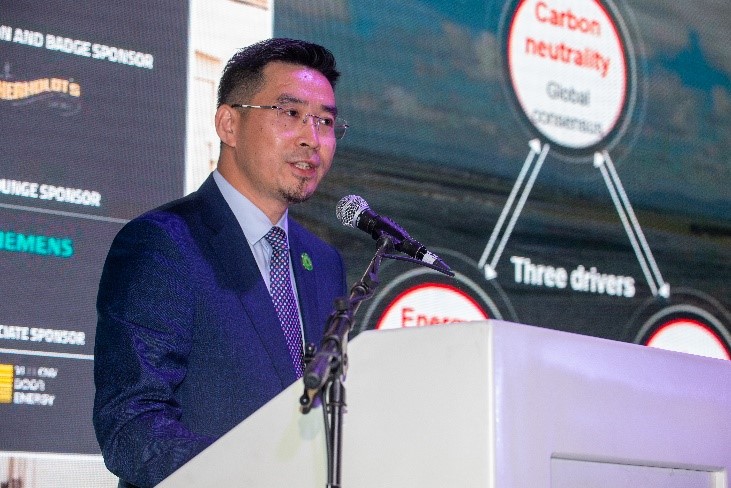 In his keynote address to the conference attendees, Xia Hesheng, President of Huawei Sub-Saharan Africa Digital Power Business, pointed out that the carbon neutrality, energy independence and business value are the three wheels to drive the PV demand growing rapidly. In Africa, quality is the cornerstone of the rapid development of the industry. The whole industry should pay high attention on quality from the beginning of the rapid development of the industry. At least three aspects of quality should be concerned about, product quality, delivery quality, and service quality. He also highlighted that if quality is relying on people, there is no standard and high reliable quality. Huawei believes that only by building quality on processes can achieve end-to-end high quality target.
Mr. Xia Hesheng expanded that, in solar industry, safety should be the primary consideration in product design and project delivery. Huawei uses technologies such as Smart string level Disconnector, Smart Connector Temperature Detector , AFCI (arc-fault circuit interrupter), RSD(Rapid Shut Down) and so on to improve the security level, and uses technologies such as four-level safety protection: Prewarning, Detection, Isolation, Fire suppression. Currently, more and more countries released the corresponding safety standards, such as AFCI.
In utility power plants solution, Huawei adheres to the string invertor and abandons the centralized invertor, One of the key consideration is that the centralized mode has a lots of long HVDC cables, which bring potential safety risks to the power plants. And in residential solution, Huawei is the only vendor to built-in fire extinguishing kit to ensure the safety of energy storage system.
In addition, Mr. Xia Hesheng mentioned that as the proportion of new energy increases, it will weak the strength of the power grid, The adaptability and friendliness of the power grid must be considered. Huawei's solutions, such as high-accuracy digital simulation, weak grid compatibility, and grid forming, It can better adapt to, support and enhance the power grid.
Finally, Mr. Xia Hesheng called on the whole solar industry to consider "quality, safety, grid adaption" as most import factors to drive solar industry, securing the standard and specifications to build a "high quality, active safety, grid friendly" solar industry, to build solar industry as a high quality benchmark.