Huawei enters Australia's residential battery market with modular LUNA2000
Huawei launched its home battery, the LUNA2000 energy storage system, at the Smart Energy Conference in Sydney last week. The modular battery marks the Chinese company's foray into storage for Australia's rooftop solar boom, a segment expected to grow significantly thanks to a combination of increased government subsidies, solar penetration causing electricity export prices to plummet and the growing influence of virtual power plants (VPPs) opening up new sources of revenue for battery owners.
Product managers for Huawei Australia's solar business, Simon Wang and Haider Khan, gave pv magazine Australia a rundown on the battery system's features and where they see it fitting into the Australian landscape. Retailing for under $10,000 for a 10 kWh system, the battery has already been approved for South Australia's home battery scheme subsidy.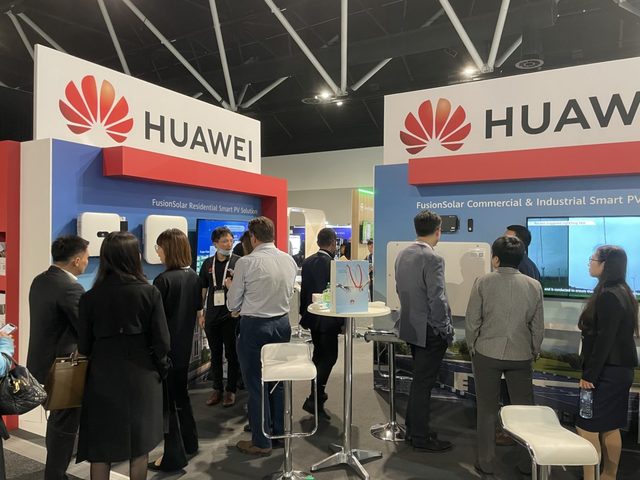 Huawei's booth at the Sydney Smart Energy Convention in 2021
Khan says Huawei is also working with Discover Energy, trialling the Luna2000 on its virtual power plant platform which essentially aggregates home batteries through software so they can participate in profitable electricity spot markets.
LUNA2000 basic
The storage system made up of 5 kWh modules which can be stacked directly on one another to created a 15 kWh system. Another three modules (up to 15 kWh) are able to be joined in parallel, sitting side by side, to scale the battery system to a total capacity of 30 kWh. The maximum output per module is 2.5 kW.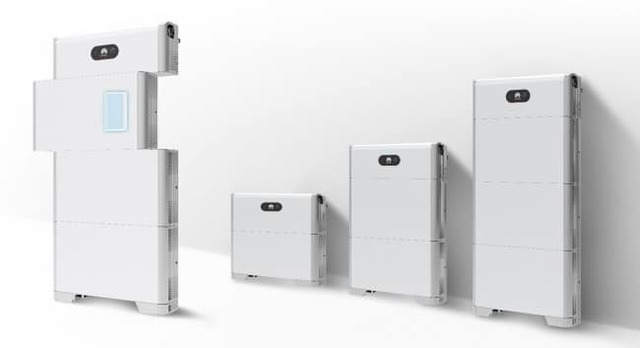 Huawei's LUNA2000 home battery
The battery can be paired with both single and three phase residential inverters, which Huawei hopes will make its systems easier for retailers to both install and sell.
The batteries are able to be fitted either to walls or simply placed on the ground outdoors, and have been built to be both water and dust resistant.
Each battery module weighs about 50kg and each power module which accompanies the stack weighs 12kg. Which is to say, the weight is about 62kg for a 5kWh system and goes up to 162kg for a 15 kWh system. While it sounds like a lot, the LUNA2000 has a sleek design not dissimilar to the popular Tesla Powerwall giving the system a lightweight look.
While Huawei is primarily targeting the residential PV segment, the battery's scalability of up to 30 kWh means the LUNA2000 system could also be used for small commercial applications.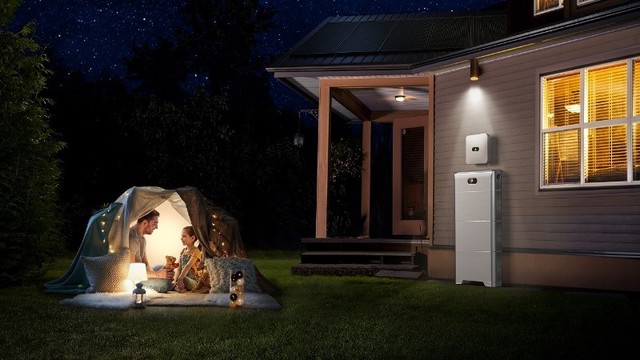 Features
While the 5 kWh modules are built to be added to one another, each functions independently and has its own battery management system (BMS). Likewise, each module is covered by its own 10 year warranty.
The battery modules also charge and discharge independently from one another thanks to the energy optimiser, meaning the impact of underperforming cell is limited to the affected module.
Another selling point for the battery is its depth of discharge – which unlike most lithium-based chemistries is able to be 100% discharged.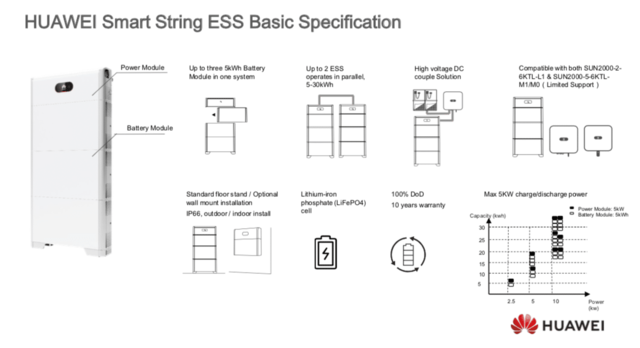 Safety
Given the growing reports of DC isolators on rooftop solar systems catching fire, safety has been a major focus for Huawei in entering the Australian landscape.
To that end, the company has added three layers of protection to each battery module, including AI-powered internal short circuit detection, temperature sensors to detect overheating, and built in current and voltage sensors. Each module also has a fire extinguishing bag.
These safety mechanisms are all backed up by the battery management system (BMS) which is driven by Artificial Intelligence (AI).
To that end, Khan says battery's chemistry, which adds phosphate into the traditional lithium-iron mix, helps to stabilise the system.