Huawei Introduces Latest FusionSolar Smart PV Solution at All-Energy Australia 2019
Huawei has showcased its pioneering leadership in the Australian solar technology industry by unveiling its latest cutting-edge products at the All-Energy Australia conference in Melbourne – the largest clean and renewable energy event in the industry.
Huawei, now in their fifteenth year of business in Australia, is ranked No. 1 in terms of the global PV solar inverter shipment for four consecutive years from 2015 to 2018 according to the latest analysis from independent consulting firms IHS Markit and Wood Mackenzie (also known as GTM Research).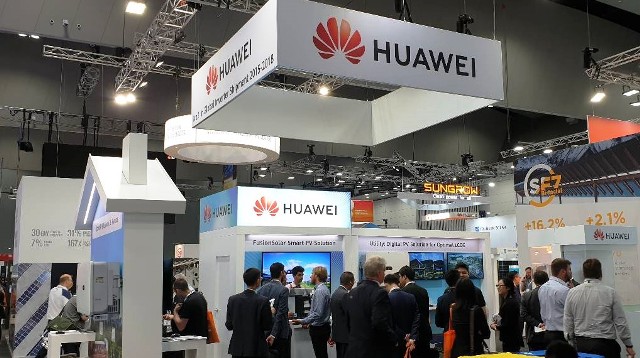 With the solar technology industry increasingly focused on digital PV products, Huawei launched the FusionSolar 6.0 Smart PV Solution and SUN2000-185KTL-H1 smart solar inverters at the event.
FusionSolar 6.0 Smart PV Solution is an industry solution integrating SUN2000-185KTL-H1, a 1500V inverter, with bifacial PV modules, MBUS communication, a tracker system and smart PV management system. This holistic solution helps lower the levelised cost of energy (LCOE).
This latest version of the SUN2000-185KTL supports nine maximum power point trackers (MPPTs) connected to 18 strings. Having finer granularity of MPPT makes SUN2000-185KTL-H1 the best choice for bifacial PV modules to avoid excess string mismatch loss.
In addition, the SUN2000-185KTL-H1 has an IP66 rating that offers high protection in harsh environments like torrid deserts and coastal areas with high humidity and salt-spray.
For its part, the FusionSolar 6.0 supports a smart PV management system which features Smart I-V Curve Diagnosis and be applied for more than 5 GW PV plants globally. It can do a 100% full load of scanning remotely for a 100MW PV plant within 15 minutes. It can determine up to 14 kind of string fault certified by TÜV, pinpoint the faulty string location and provide recovery advice. AI self-learning enables FusionSolar 6.0 to accumulate I-V diagnosis experience and optimise fault models to maximise operations with minimal maintenance.
Commercial and Residential: Ultimate Safety and Better Experience
Huawei unveiled the SUN2000-5-20KTL-M0 three-phase smart solar inverters, and also exhibited the popular SUN2000-29.9KTL and SUN2000L-2/3/4/4.6/5KTL single-phase smart solar inverters. These inverters include 10 years of full comprehensive warranty, instead of the typical 5 years parts and labour, plus 5 years parts warranty.
These models have been designed to better meet the requirements of industrial, commercial, and residential customers in Australia by using cutting-edge technology to deliver energy more efficiently.
Select Huawei distributed solar inverters integrates AI-powered arc fault circuit interrupter (AFCI) to improve safety for PV plants. With its AI capability, AFCI can detect and determine the occurrence of arcs accurately and reliably, and effectively turn off the grid-tied switch to eliminate arcs and prevent fire.
The potential induced degradation (PID) repair function can prolong the service life of PV modules. Anti-PID module built in solar inverters can automatically adjust the voltage between the PV– and PE to repair the PID effect to maintain PV modules health for a longer time.
As a pioneer and enabler of smart PV, Huawei is always committed to helping customers achieve business success and accelerate intelligent upgrade of the PV industry.