Huawei Pioneers Intelligent Leap at Intersolar Europe 2019
[Munich, Germany, May 15, 2019] Today marks the opening day of Intersolar Europe 2019, where Huawei unveils its innovative FusionSolar Residential and Commercial Smart PV Solution, as well as FusionSolar 6.0 Smart PV Solution for optimal LCOE with bifacial modules. At this year's event, Huawei is expanding on the theme of "Roads to a Digital PV World".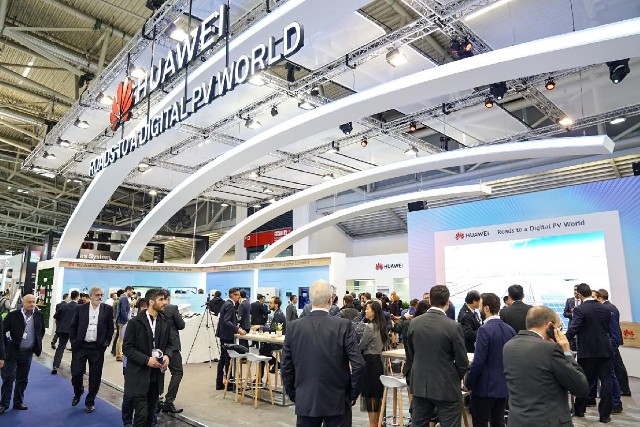 Digital PV Solution for Ultimate Safety & Better Experience
SUN2000 3-20KTL Inverter & 375W-P2 2nd Generation Optimizer Solution made its debut at 2019 Intersolar. It will be applied for residential as well as small scale commercial & industry rooftop scenarios. For simple rooftop scenario, Huawei provides a simple inverter that can implement MPPT to obtain maximum power from PV strings. For complex rooftop scenario, Huawei provides full optimizer solution, which can achieve up to 30% higher yields contributed by optimizing each panel performance."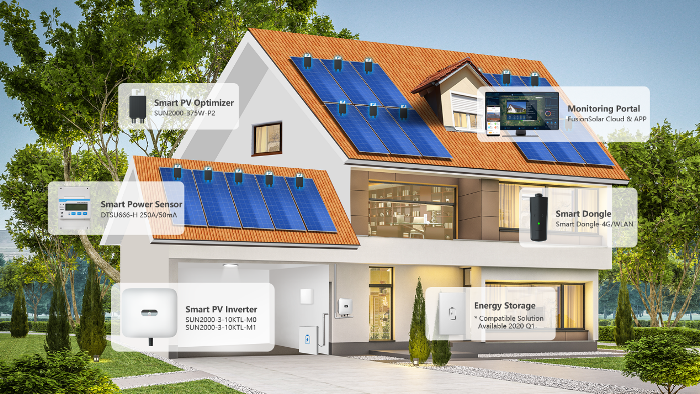 < 5s Auto Module Physical View Creation By AI Image Recognition: Image Identification of module layout template via commissioning App to quickly create module physical layout for monitoring.
AI Powered AFCI to Proactively Mitigate Fire Risk: Arc fault detection and confirm mechanism and accumulated machine learning capability for reliable & wide range arc fault identification.
Smart I-V Curve Diagnosis for Massive Module Health Check Remotely: One click massive string I-V curve scanning in monitoring system to identity under-performing modules and generated diagnosis report automatically, less on-site O&M cost.
Built-in PID Recovery for Better Module Performance: Inverter applies regulated voltage between PV- to PE to boost the string voltage to ground to recover module PID effect.
Digital Turbo: As an important part of solar PV industry, FusionSolar Residential and Commercial Smart PV Solution takes leading ICT & AI technology to upgrade customers solar experience, making it faster and easier than ever before.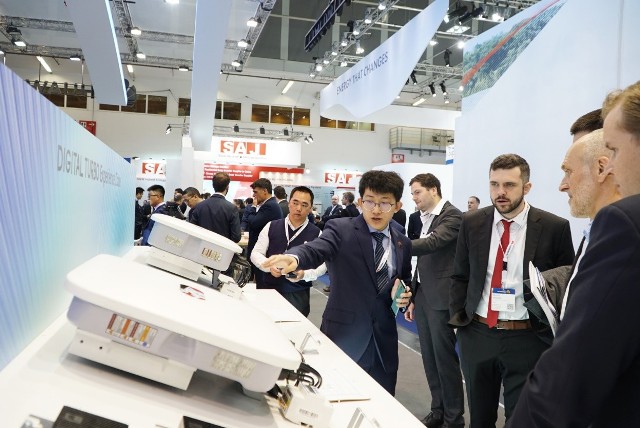 Digital PV Solution for Optimal LCOE
At the event, Huawei is also demonstrating its leading FusionSolar 6.0 Smart PV Solution that covers utility-scale scenario. SUN2000-185KTL thoroughly integrates digital information technology and AI with photovoltaics.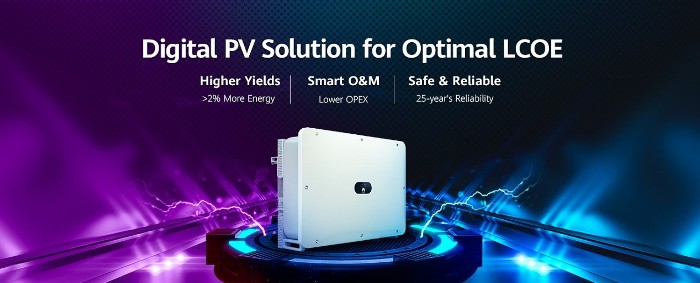 SUN2000-185KTL
3% Higher Yields, FusionSolar 6.0 + Bifacial Module: Comparing to the traditional solution, FusionSolar 6.0 makes yields increased by over 3% and O&M efficiency increased by over 50%. Multiple MPPT adapted to bifacial modules achieve minimizing PV string mismatch.
Smart MPP Tracking Algorithm Leads Wider, Faster & Higher Yields: Huawei patented multi-peak algorithm achieves tracking the highest power peak in 200 milliseconds. With 9 maximum power point trackers (MPPTs), it could reduce string mismatch effectively.
Cutting-edge Smart I-V Curve Diagnosis 3.0: Big-data analysis can proactively discover low-performance unit, achieving the revolution from passive maintenance to active preventive maintenance. Moreover, application of AI evolves the operation and maintenance of PV plants towards "Autonomous driving". Compared with manual I-V Curve test, it performs full detection of 100 MW strings and generates the diagnosis report in 15 minutes, rebuilding a more efficient and lower cost O&M model.
Consequently, the LCOE (Levelized Cost of Electricity) will be reduced by over 8%, which can promote a comprehensive intelligent upgrading of PV industry.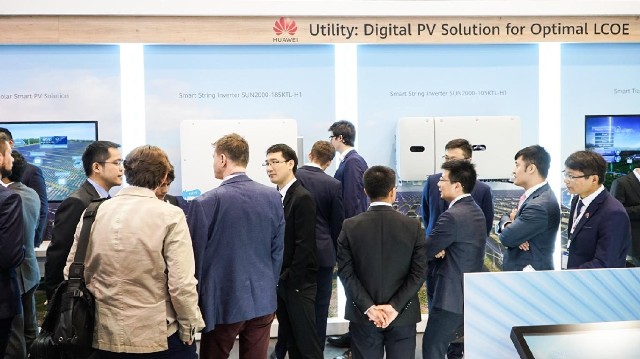 Huawei Smart PV is committed to bringing digital to every organization for a fully connected, intelligent world. Based on reports released by global consultancy IHS Markit, Huawei was ranked No.1 globally in inverter shipment for four consecutive years, from 2015 to 2018. With leading AI innovations, Huawei FusionSolar Smart PV Solution accelerates solar power grid parity and leads the intelligent upgrade of the industry.
Intersolar Europe runs from May 15 to 17 in Munich, Germany. Huawei is showcasing its FusionSolar Smart PV Solution at booth B3.310. For more information, please visit: https://solar.huawei.com.