EnergoBit and Huawei sign MoU to contribute to the deployment of Digital Power in Romania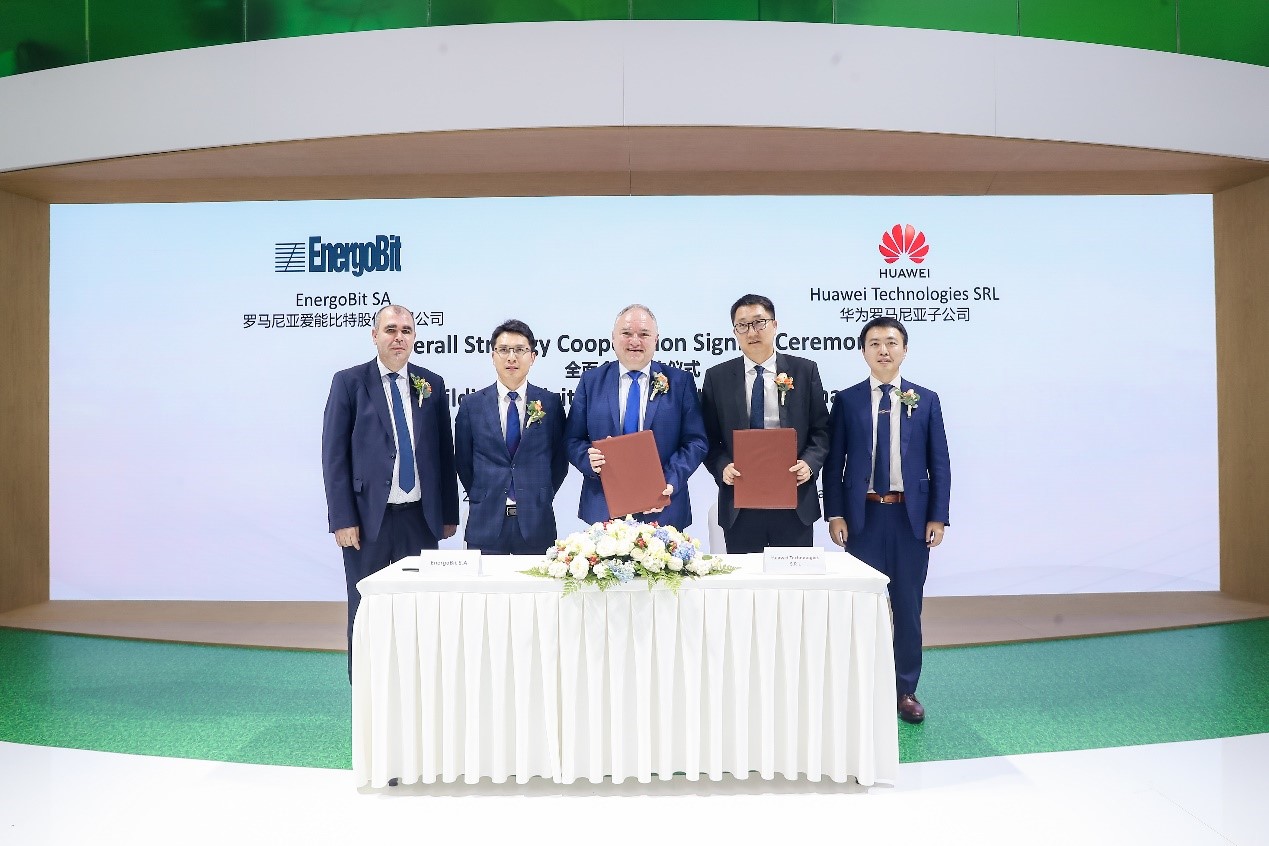 From left to right (
EnergoBit - Terec Adrian: Deputy CEO of EnergoBit,
Huawei - Kuang Sai: President of Smart PV Business, Global Marketing, Sales & Service
EnergoBit - Florin-Mircea Pop: CEO of EnergoBit
Huawei - Bian Dongyang: Director of Huawei Romania Digital Power Business Department
Huawei - Tang Minghuang Director of Huawei European Smart PV Development Department)
[Shanghai, China, May 25, 2023] During Shanghai New International Expo Center (SNEC) 2023 held in Shanghai from May 23 to May 26, EnergoBit and Huawei Rom ania signed an overall cooperation Memorandum of Understanding (MoU) for Photovoltaic and Energy Storage projects.
Under the MoU, both parties will join forces to further develop the photovoltaic industry in Romania by enhancing the technological innovation, improving the user experience and developing new use cases.
EnergoBit and Huawei Romania will collaborate to develop the utility-scale plants, commercial & industrial (C&I), and residential Photovoltaic and Energy Storage projects in Romania. The collaboration will include providing Huawei Digital Power solutions to the Romanian market. Both parties will also work together to develop new use cases for the industry. Finally, the partnership will explore innovative cooperation in areas such as electrical vehicles charging solutions among others.
EnergoBit's General Manager, Florin-Mircea Pop, commented: "EnergoBit gathers over three decades of experience in energy projects, with over two thousand MW installed in renewable energy projects executed in Romania. In all our business lines, from energy services to electrical equipment manufacturing and power plant maintenance and operation, we are committed to making energy more reliable, more efficient, more economical and greener
EnergoBit has built its performance on long term collaborations with strong technology manufacturers and continues to offer the Romanian market the best technologies integrated into solutions suitable for our energy system, therefore we are pleased to include Huawei among our strong partners as a technology supplier.
EnergoBit will continue to develop its portfolio of services and products to remain one of the leading local providers of integrated solutions throughout the life cycle of an energy project. We are confident that the collaboration with Huawei will emphasize the development of the Romanian energy system and will bring numerous advantages to both parties."
Huawei is committed to integrating digital and power electronics technologies, developing clean power, and enabling energy digitalization to drive energy revolution for a better, greener future. Huawei and EnergoBit shared vision focuses on helping the development of the digital power industry in Romania and this cooperation will allow Huawei innovative products and solutions to create business and social value.